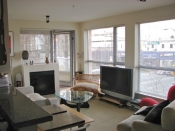 Gorgeous 2 bdrm at the very posh Arbutus Outlook in the heart of Kitsilano. Perfect for those that are on the move this peaceful retreat comes with wall to wall windows, a spacious balcony, gas fireplace and upscale finishing's that are hard to find. Pets and rentals are allowed. This apartment unit is definitely worth seeing and it would also be an Investors dream!
Properties by Alexis
Welcome to the web pages of Vancouver realtor Alexis Palkowski.
You are now on a site that exudes the unique flavour of the West Coast of Canada, its vast, magnificent scenery and the amazing homes that have been built on properties to take advantage of the natural surroundings, while offering their residents an incomparable quality and ease of life.
Alexis ensures that no matter how big or small your dream property may be its the perfect one that suits your needs and lifestyle. It has often been remarked that "style is power." Those who posses it have something unique, which cannot be purchased, maybe learned, but more often it is innate. Style is much more than how you dress, it comprises how you live, the graciousness of your hospitality, the friends you keep and an acute awareness of the issues of the times. If anyone embodies the word Style, without a doubt it is Alexis Palkowski. She embodies style and she sells a style of living. The style of life that those who choose the West Coast of British Columbia, more accurately the exclusive neighbourhoods of Downtown Vancouver, West Vancouver, Shaughnessy, and Point Grey, are searching to complete their personal dreams. A style that interprets who they are, how they want to be perceived, in a grand tradition that echoes the elegance of past centuries brought up to date to today's 21 st Century Style of Living.
As you discover more information about Alexis and her real estate experience, you will come to realize her dedication to the profession and her integrity in her transactions.
Alexis' style is her power. The power to achieve results for her clients.