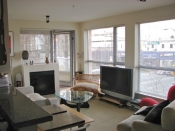 Gorgeous 2 bdrm at the very posh Arbutus Outlook in the heart of Kitsilano. Perfect for those that are on the move this peaceful retreat comes with wall to wall windows, a spacious balcony, gas fireplace and upscale finishing's that are hard to find. Pets and rentals are allowed. This apartment unit is definitely worth seeing and it would also be an Investors dream!
About
Alexis Palkowski's philosophy embraces rigorous attention to every detail involved in her work. Everything that she does in her life and work, she does with complete attention to the task at hand, whether it's researching the neighbourhood for a client, ensuring the property fits their wish list, or to have the listed property ready for a perfect presentation. This accomplished realtor is devoted to her clients, maintains an enviable work ethic, has an amazing abundance of energy, and will go above and beyond the expectations of her agreement to give them satisfaction with every detail.
Clients of Alexis Palkowski know that she will work on their behalf, around the clock if necessary. Whether they are searching for the perfect condominium, an investment property, the home of their dreams, or selling a high-end property, Alexis gives them confidence in her expertise and guarantees satisfaction with the result.
When it's time to find out who, what, when, where, it's time to talk with the go-to realtor in Vancouver, Alexis Palkowski. She's in the know, not just about real estate, but is savvy about the community, social events, and the latest creative endeavors taking place in Vancouver. Her connections with the movers and shakers in the city together with her wide network of friends and colleagues give her the edge. Her exhausting knowledge of West Coast properties was honed through her upbringing in West Vancouver. She clearly understands the expectations and the lifestyle of those who choose the area as their home.
Thanks to her family, she was brought up to consider real estate a reliable investment to secure a solid footing for the financial future. When a client engages Alexis' expertise, they receive the ultimate attention, supreme discipline to the assignment, and the understanding that she will find or sell their ultimate property.